Products
Every product on my menu is available a la carte – this means you are not stuck in a package with items you do not want. You are free to choose the products that suit your needs – from matted prints, to canvases, to digitals. I only offer archival quality products for you to enjoy for years to come.
During the reveal session, I can assist you in designing wall art groupings using special software that allows us to actually see your images on your walls before we order. It's pretty amazing, really. You can see some examples of this in the Pricing Guide so be sure to request one today.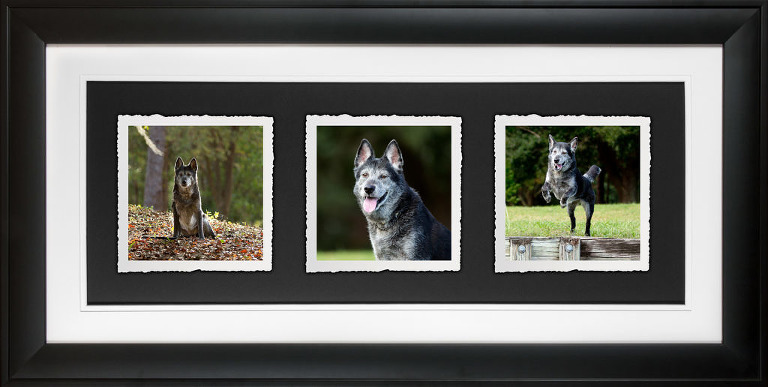 Fine Art Torn Edge Trio – $525

3 7×7 images printed on beautiful fine art watercolor paper with hand-torn edges, floated print feature, double mat and plexiglass. Printed, framed, and ready to hang. At 34in x 17in, this is a stunning piece of art.
---
Acrylics, Canvases, Metal Prints
16×24 – $375                    24×36 – $650
20×30 – $525                   30×40 – $900
All wall art is available in a variety of sizes and mediums which allows you to choose the look and style to meet your home or office decor. New on the block are acrylic prints which gives your images an artist flair while "floating" off the wall for a unique look. For those wanting a more rustic style, there are metal prints with a sleek finish and metal mounting posts. And of course traditionalists will enjoy a gallery wrapped canvas stretched over a wooden frame with a wire hanger or perhaps a more modern float wrap canvas.
---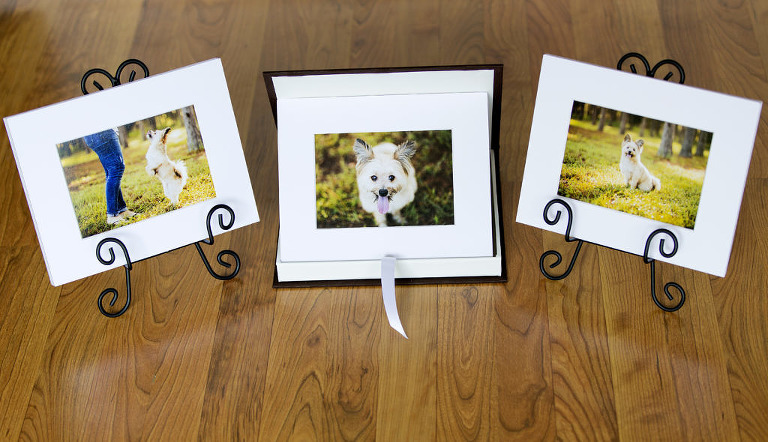 Unbound Album
(25) 7×10 matted to 11×14 – $850                       (25) 5×7 matted to 8×10 – $725
(10) 7×10 matted to 11×14 – $550                       (10) 5×7 matted to 8×10 – $400
This "unbound album" gives you the flexibility you want when enjoying your images. This is a great choice if you don't have a lot of wall space such as in an apartment or office. You select 10 or 25 images to keep in a cotton-blend fabric covered archival folio box with satin ribbon. Choose to display your images one at a time or as a bundle on an easel and rotate them out as you like or select a few to display in frames on your wall. The possibilities are endless.
---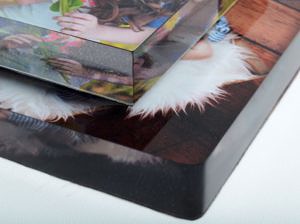 Acrylic Block
Any size up to 6in on each side- $125
Any size up to 8in on each side – $150
Any size up to 10in on each side – $175
Acrylic blocks are perfect for a bookshelf, a mantle, or a desk at the home or office. They are 1″ thick and stand alone. Your image is seen through the acrylic block and can be customized to have square or rounded corners. These make great gifts!
---

The Shelfie – $275
Another option for the mantle or a shelf is the Shelfie. It consists of (3) 8×8 metal prints that are inserted into a solid wood base. Additional metal prints can be purchased to allow for more versatility and changing out images as you like.
---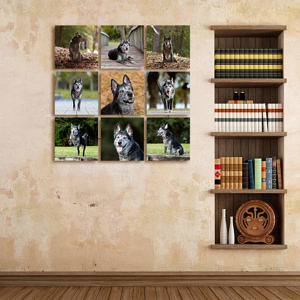 Canvas Connectibles
Ever try to hang more than one image together and can never get it quite right? Canvas connectibles are the same quality as a traditional canvas but let you choose more than one favorite and are super simple to hang. These are available in 6x6in or 12x12in blocks in sets of 4, 6, or 9 and are square canvases connected by hardware that allow the set to be hung as one piece! Hang just one nail to be able to enjoy multiple images from your session.
(6) 6x6in blocks – $300
(9) 6x6in blocks – $450
(4) 12x12in blocks – $700
(6) 12x12in blocks – $900
---
Here's a guide you can use to begin thinking about sizes you may want on your walls.
I am so excited to see your memories in print! Printed photos mean so much to me not only as a photographer, but as a dog mom myself! Learn more about my story to see why.
Or, if you would like to see a full product & pricing guide or have decided you're ready to book your session, please contact me today!